Public Art Descriptions
Abstract Orange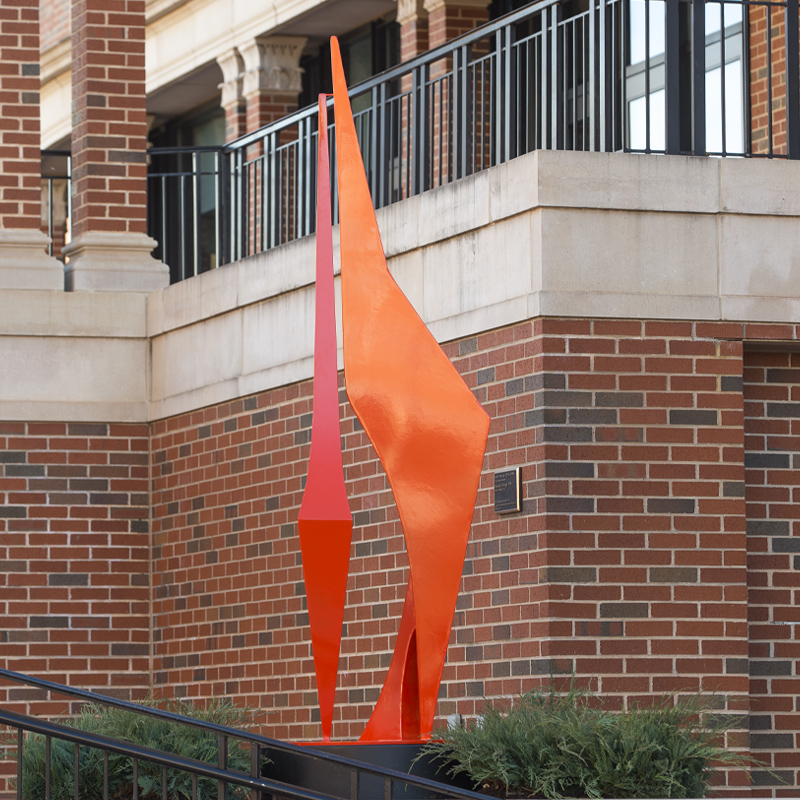 Houser, an Oklahoma-born Chiricahua Apache artist, is considered one of the most renowned American Indian modernist sculptors of the 20th century. His work is included in the Smithsonian Institution, the Centre Georges Pompidou, the Metropolitan Museum of Art, the White House and the British Royal Collection as well as hundreds of others across the United States.
Houser's integration of Native American and Western art traditions came later in his career when he adapted a modernist approach to nature. Abstract Orange refers to the work of Brancusi' Bird in Space, but it also relates to the graceful verticality of Houser's Chrysalis and other figurative works. The sleek curves and angular facets of the sculpture are accentuated by its tangy orange color—updated before installation to match OSU's orange.
Allan Houser (Chiricahua Apache, 1914-1994), Abstract Orange, 1991, steel and paint. Gift of James Pickel (Class of '72), OSUMA, PAC 2018.011.001.
Location: North side, Student Union, East entrance, 110 S Hester Street
---
Biodiversity, Bioforensics, Biogeophysics, Biophysics, Photonics and Synthetic Chemistry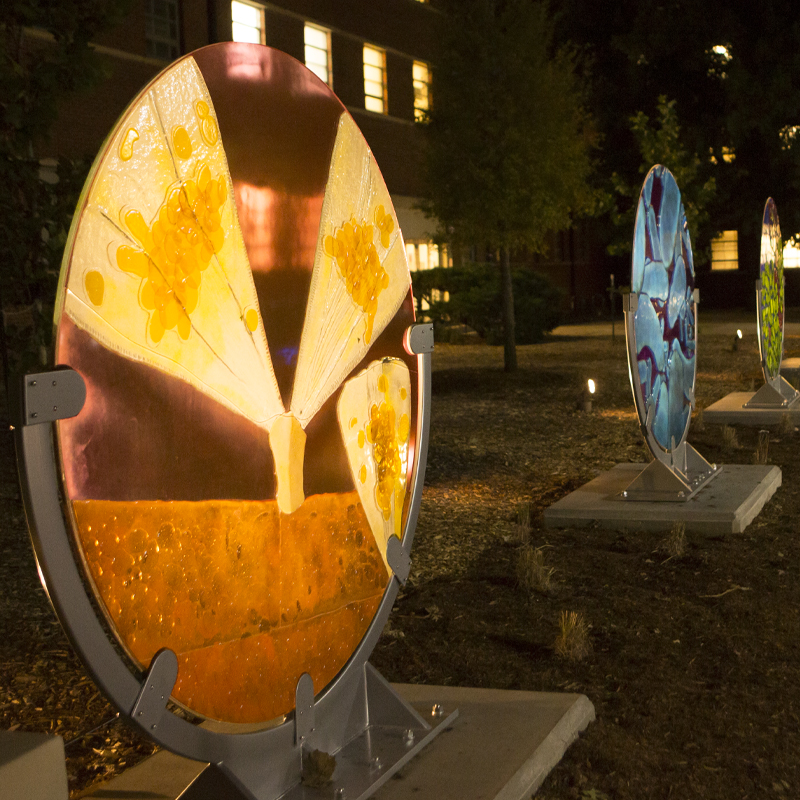 California artist, Gordon Huether, is known for his monumental glass sculptures that utilize light to increase the intensity of color. The artist has mastered the challenge of creating art in a multitude of environments and mediums. The scale of his work ranges from large architectural installations for public commissions to small intimate works of art for private collections and residences. The sculpture installation was commissioned through the Art in Public Places Act in partnership with the Oklahoma Arts Council and the Henry Bellmon Research Center.
Huether created six transparent glass disks, each six foot in diameter, to portray different research disciplines found in the Henry Bellmon Research Center: biodiversity, bio forensics, bio geophysics, biophysics, photonics, and synthetic chemistry. The artist's studio worked with the University to obtain microscopic images for each distinct area of research. Huether digitally manipulated the color and transcribed that image from a microcosm to macrocosm.
Gordon Huether (American, b. 1959), Biodiversity, Bioforensics, Biogeophysics, Biophysics, Photonics and Synthetic Chemistry, 2013, fused and enameled glass, steel bases, six separate six-foot in diameter disks, Oklahoma State University and Oklahoma Arts Council 1.5% for the Arts purchase, OSUMA, PAC 2017.013.001.
Location: West side of Henry Bellmon Research Center, 205 N. Monroe Street
---
Blue and Rust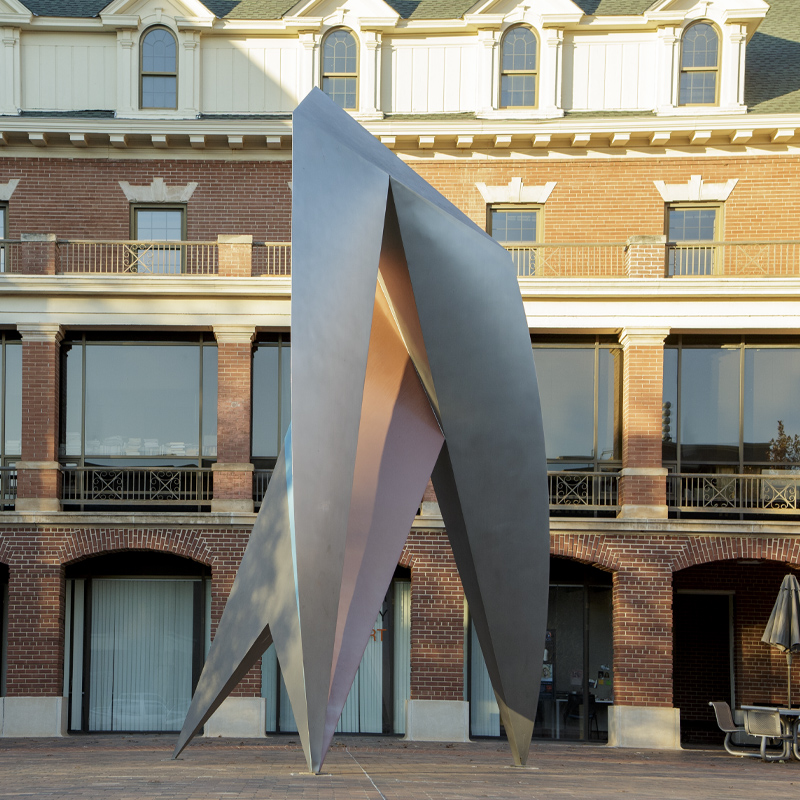 This large sculpture by artist Johanna Jordan provides dramatic entrance on the south side of the Bartlett Center for the Arts home of OSU's Department of Art, Graphic Design and Art History. Jordan is noted for her impressive, large-scale pieces created for government, corporate, and institutional settings. A graduate of the University of the Arts in Philadelphia, Jordan studied illustration, advertising design, painting, sculpture, bronze casting and welding.
Two main geometric forms make up the primary components of this sculpture, a reddish-orange and blue enameled section. The color combination of rusty red and light blue mimics the palette of the Oklahoma landscape. These forms look as if they have been folded together, making "V" and triangle shapes that point towards the sky. The open, negative spaces between these forms also allow the viewer to see beyond and through the sculpture.
Johanna S. Jordan (American, 1920-2019), Blue and Rust, 1984, stainless steel and porcelain enamel. Gift of F.M. "Pete" and Helen "Pat" Bartlett, ND-0041, Gardiner Permanent Art Collection.
Location: South side of Bartlett Center for the Visual Arts, 602 W Morrill Avenue
---
DNA IV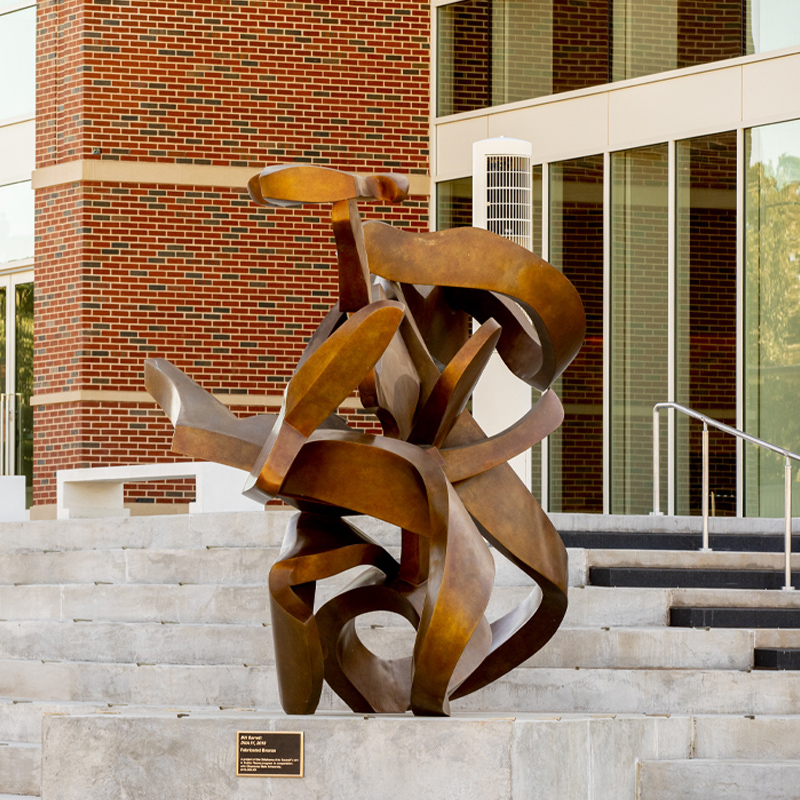 Standing tall on the corner steps of the McKnight Center for the Arts, DNA IV measures approximately 12 feet in height and 18 feet in width. Identifying characteristics, found throughout the Bill Barrett's DNA series, are the twisted ribbon shapes and the lyrically elegant, flowing, organic order of elements. A minimal footprint supports the twisting ribbon shapes that comprise the sculpture allowing expansion upward and outward while creating balance. The open, negative spaces between connected shapes are as important in experiencing the sculpture as the bronze fabricated shapes. Bill Barrett is a sculptor, painter and jeweler. He is considered a central figure in the second generation of American metal sculptors and is internationally known for his abstract sculptures in steel, aluminum and bronze.
DNA IV is the most majestic of the artist's important DNA series that includes six original sculptures of varying sizes and designs. In creating DNA IV, the artist sculpted a small-scale preliminary model from wax. The wax maquette became the basis for a collaboration between the artist and his highly skilled fabricator to translate his models into larger-scale sculptures rendered in sheet bronze.
Bill Barrett (American, b. 1934), DNA IV, 2019, bronze. Made possible in partnership with the Art in Public Places Program, Oklahoma Arts Council and Oklahoma State University, OSUMA, PAC 2019.005.001.
Location: North side of McKnight Center for the Performing Arts, 705 W University Avenue
---
Nancy Randolph Davis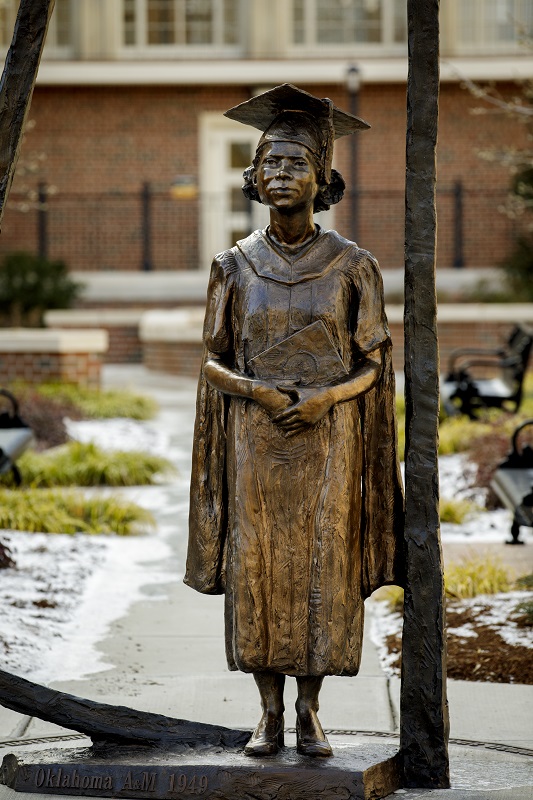 Nancy Randolph Davis (1926-2015) became the first African American enrollee at Oklahoma State University, then Oklahoma A&M College, in 1949 and received her master's degree in 1952. Davis taught in Oklahoma's public education system for 43 years and was a major Civil Rights activist in the state.
The sculptor, Jane DeDecker, has been rendering the human figure for over thirty-five years. She was selected for this commission because of her ability to sculpt the character and nobility of her subject matter. She creates an emotional experience through impressionistic and lyrical compositions that move the viewer. Created in wax and cast in bronze, the slightly larger-than-life sculpture of Davis stands at a threshold, presenting the viewer with a visual invitation through the door and to join her on the other side. Around the base of the doorway is a bronze ring inscribed with a quote by Mrs. Davis. "I was never trying to make history. I was just a regular woman and teacher wanting to further my education so that I could improve my community and the lives of my students."
Jane DeDecker (American, b. 1961), Nancy Randolph Davis, 2019, bronze. Purchase Oklahoma State University and the Oklahoma State University Foundation, OSUMA, PAC 2019.006.001.
Location: East courtyard, College of Education and Human Sciences, 122 N Monroe Street
---
Pete's Pet Posse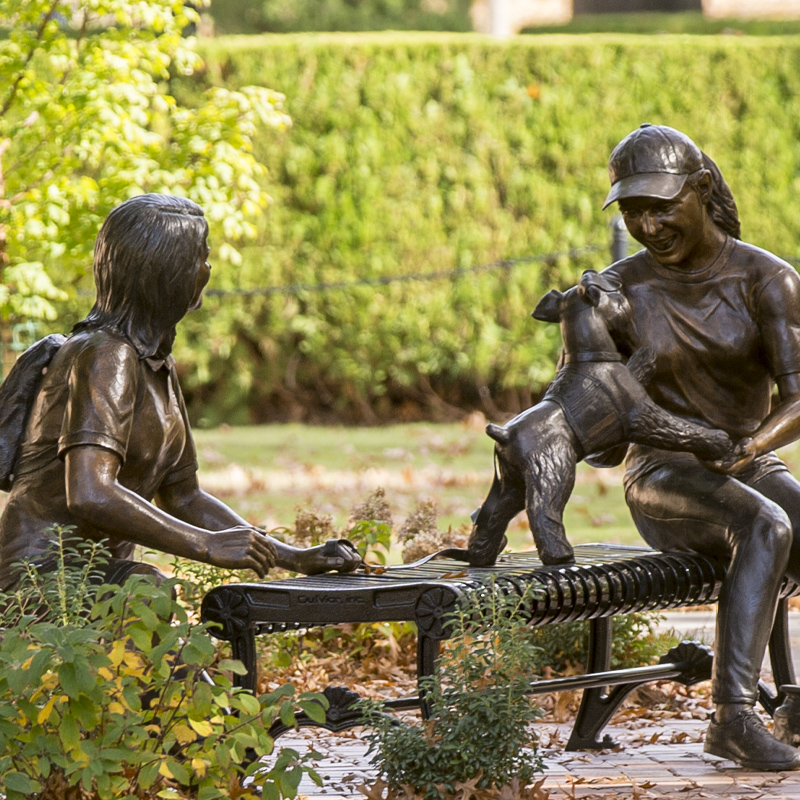 The pet therapy garden is a celebration of the special bond that the teams of dogs and owners have with our OSU students, faculty, staff and visitors. A group of sculptures are realistically depicted in the garden, a Pete's Pet Posse dog-handler is positioned kneeling on the path while on an adjacent bench the dog is seen leaping up to greet an excited student. This heavily shaded area on the northwest side of the library shows that the OSU community includes canines, their owners and dog lovers at large.
Sculpting since 1980, Jim Franklin has completed many private and public commissions all over the country. Most of his work is cast in bronze using the lost wax bronze process.
Jim Franklin (American, b. nd), Pete's Pet Posse, 2018, bronze.
Location: North side of Whitehurst, 1002 W Whitehurst Lane
---
President Henry G. Bennett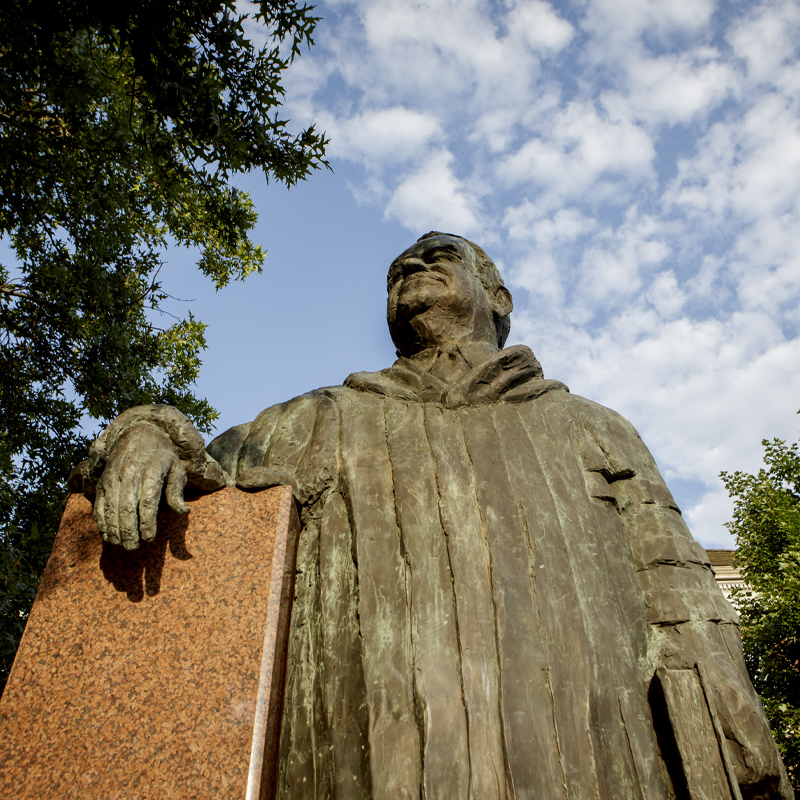 William L. Peterson began sculpting in 1973 as an avocation to his profession of law and business in real estate development. He along with Neil Horton and John M. Williams were the original developers of Bricktown, Oklahoma City. In the early 1980s, he turned his attention to sculpting full-time. His work is usually associated with representational works including many portrait busts. He worked inlay in bronze and stone.

William L. Peterson (American, b. nd), President Henry G. Bennett, 1990, bronze.
Location: East side of Whitehurst, 1002 W Whitehurst Lane
---
Proud and Immortal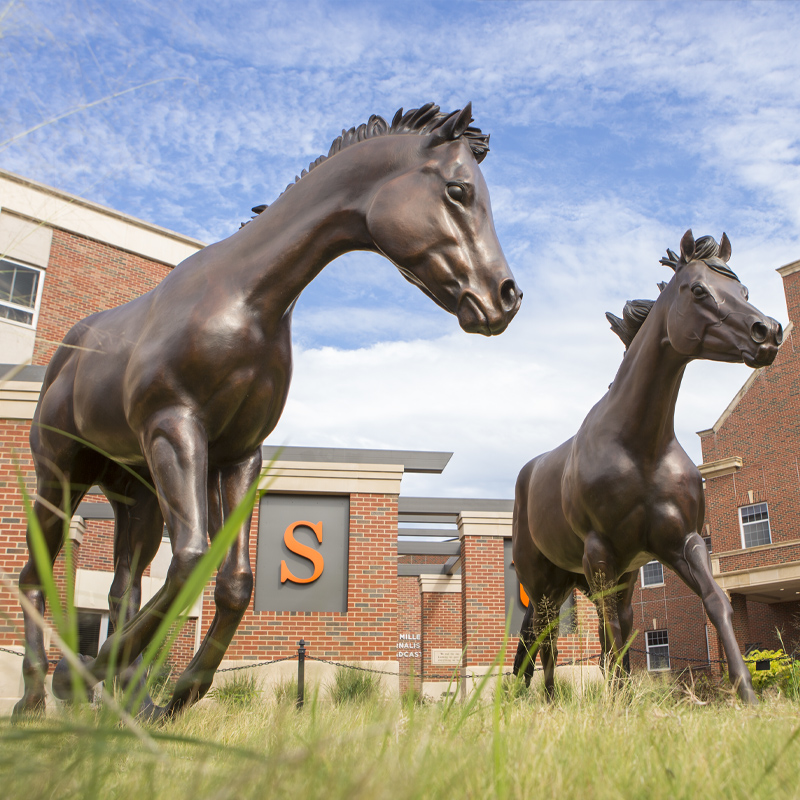 Located at the southeast entrance of the OSU Student Union these sculptures are part of a special Welcome Plaza created to serve as a symbolic entrance to the University. The mare is intended to represent alumni and staff and faculty while the foal is meant to represent the eager freshmen students, ready to run out and change the world. Symbolism is an important element to artist Marrita Black when bringing the horses to life, first in clay and then as a series of cast bronze. The sculpture was named through an online contest. The winning entry, "Proud and Immortal," was based upon the lyrics of the OSU alma mater.
The plaza is an inviting garden, landscaped to provide shade and an outdoor meeting space. At its center is an impressive bronze statue of a galloping mare and her foal, created 1.25 times larger than true scale. Arbor columns are inscribed with Cowboy ethics and the alma mater. A bronze sculpture of a saddle sitting atop a fence is also featured. Black uses many different mediums, such as clay, bronze and resin to create her horses. Each sculpture is a rendering of a particular horse. She is known for her accurate portrayal of horses and beyond the physical attributes, she has captured the spirit and relationship intended to ease entry of new students.
Marrita Black (American, b. nd), Proud and Immortal, 2017, bronze.
Location: East Side of Student Union, 110 S. Hester Street
---
Singing Heart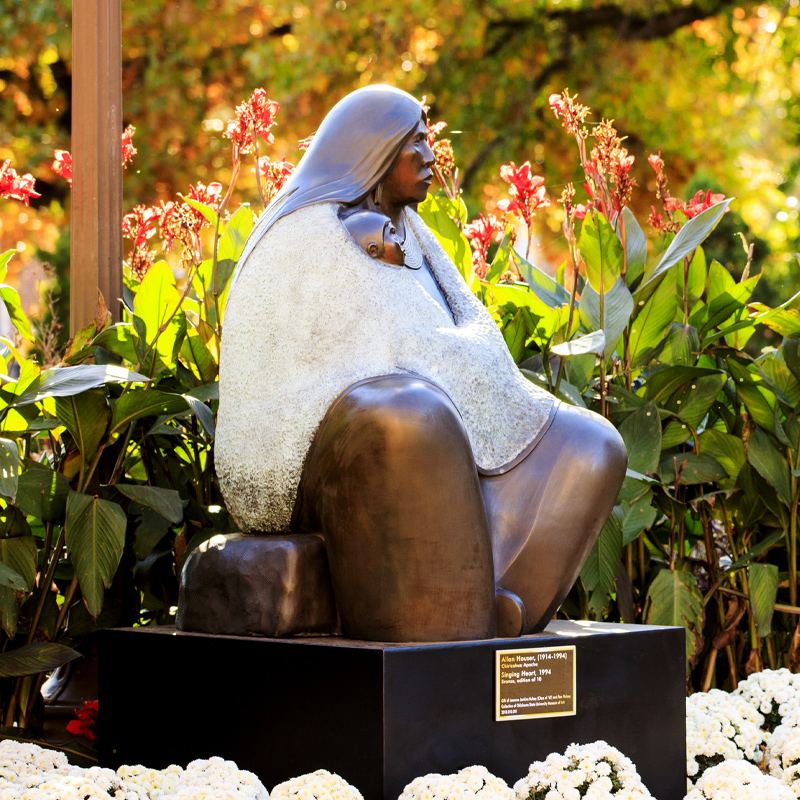 Oklahoma-born Chiricahua Apache artist, Allan Houser is renowned within his field and his work is highly sought-after. A major theme in much of Houser's work is the recurring image of mother and child. He was interested in how maternity is universal yet also approached differently across multiple cultures.
This sculpture was originally created in Tennessee marble and later cast in bronze. Notice the expressions on the faces of the mother holding her child, as well as the interplays with texture, particularly in the blanket that is wrapped around them both. Anna Marie Houser, Houser's wife believed the child was Allan and he was being held by his mother, Blossom Haozous.
Allan Houser (Chiricahua Apache, 1914-1994), Singing Heart, 1994, bronze. Gift of Jeanene Jenkins Hulsey (Class of '67) and Ron Hulsey, OSUMA, PAC 2018.010.001.
Location: Mother's Garden, West side of The Atherton Hotel, 110 S Hester Street
---
Tai Chi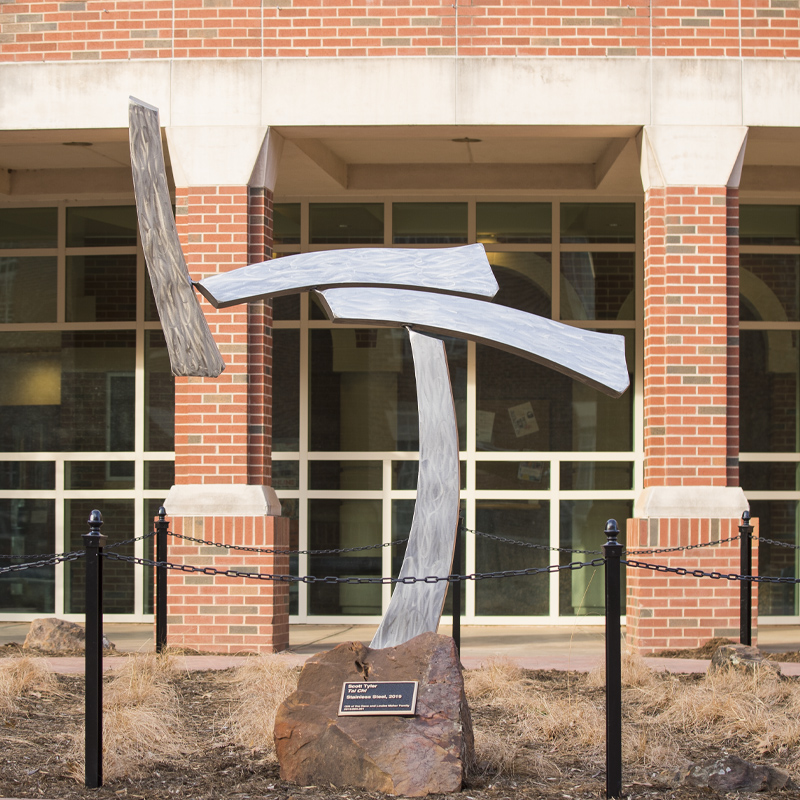 Scott Tyler became a sculptor after a successful career in the Marine Corps. Inspired and mentored by his father John Tyler, he learned how to create kinetic sculpture in steel.
The original design for this sculpture was created by John Tyler. Scott Tyler and his brother Nate Tyler went on to develop this version that was inspired by their father's work. Tai Chi is both visually pleasing and intriguing to watch, as the blades rotate with the wind. This sculpture is a fitting complement to the mission of the College of Engineering, Architecture and Technology.
Scott Tyler (American, b. nd), Tai Chi, 2019, stainless steel. Gift in honor of the Dave and Louise Maher Family, OSUMA, PAC 2019.004.001.
Location: South entrance, Advanced Technology Research Center, 801 W Athletic Avenue